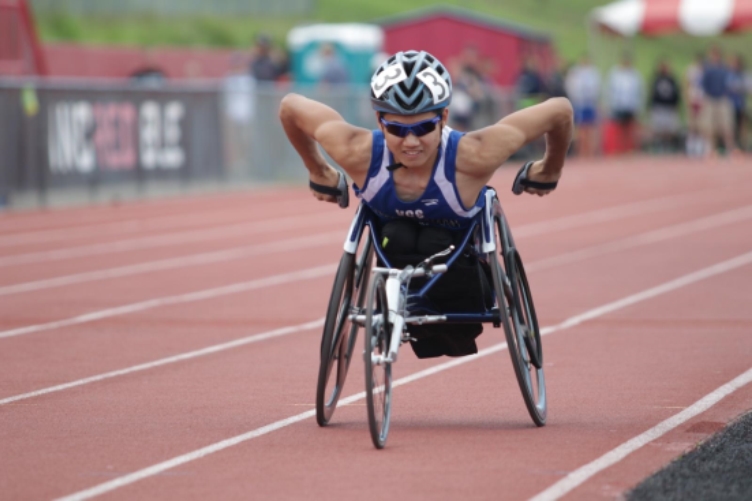 Philip Croft is a Sophomore at Valley Christian School and a basketball and track para-athlete.  He was introduced to wheelchair sports by, Teresa Skinner and David Greig, the co-founders of ParaSport Spokane.  According to Philip's dad, Karl Croft, Philip's favorite sport is track because he loves the speed and success in the sport came swiftly.
Philip has been on the U.S. Paralympic Committee's radar since the summer of 2013 when he competed in the National Junior Disability Championships in Ames, Iowa, where he placed 1st or 2nd in 5 events and broke several longstanding records.  Based on his race times last spring at The Desert Challenge in Phoenix, AZ, he was selected to compete in the U.S. National Championships in Los Angeles, CA, in June 2017.  Philip 's success at those two events earned him a spot on the U.S. International Paralympic Team which competed in Nottwil, Switzerland, in July and August 2017.  While there, Philip earned 3 Silver and 2 Bronze medals.
Recently, Philip was recognized by the United States Olympic Committee as a member of the 2017 U.S. Paralympic High School Track and Field All-American list for his times in the Men's 200m, 800m and 1500m.  Only 71 athletes (37 men and 34 women) across the U.S. achieved this status in 2017.  CONGRATULATIONS, Philip!!! 
Philip has his sights set on competing in the 2020 Summer Paralympic Games in Japan.  So Panthers, the next time you see Philip in the halls, let him know you are praying for him and cheering him on as he seeks to achieve this goal.