Dear Prospective School Family,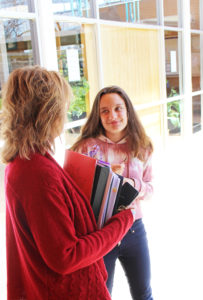 Thank you for your interest in Valley Christian School. It is our purpose to provide a loving, Christ centered environment that upholds a high standard of education with a biblical worldview as its foundation. We endeavor to inspire our young people to grow in their Christ-like character, preparing them to serve God and others as an outpouring of their faith. It is our goal to help every student reach their God-given potential in every aspect of life.
Our teachers are committed, this is not a job for them it is a ministry and they serve as role models of Christ and have been called by God to serve in a Christian school. We offer a traditional yet relational and innovative educational approach that establishes strong foundations of learning across the curriculum. Many of our classes are smaller in size and provide opportunity for consistent student mentoring. In a smaller school environment, many of our students can participate in a wide range of extracurricular activities in addition to comprehensive academic offerings.
Valley Christian School has been serving families since 1974 and is an independent, non-denominational school. We are accredited by the Association of Christian School International (ACSI) and Northwest Accreditation Commission (NWAC). Our PreK-12 program is approved by the State of Washington with curriculum opportunities in Bible, language, social studies, mathematics, occupational education, foreign language, advanced placement classes, music, physical education, athletics, drama, STEM, robotics and Christian service.
After having the opportunity to review our website feel free to apply or schedule an appointment for a personal inquiry and tour of our campus.
In His Service,
Derick Tabish
Administrator of Valley Christian School