VCS Champs in Regional Knowledge Bowl Tournament, Making History as The First 1B School to Win the Tournament!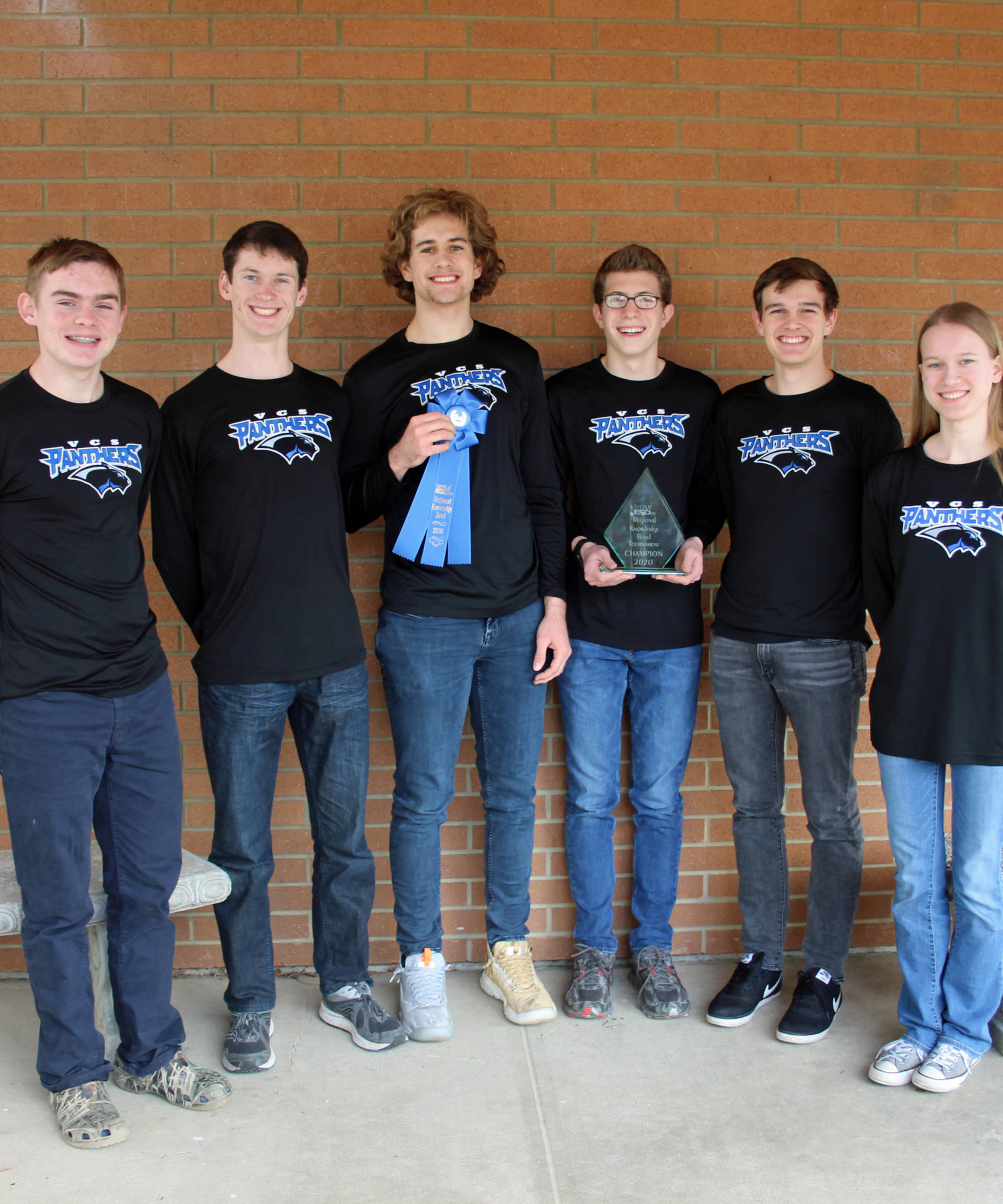 Valley Christian School's Knowledge Bowl team not only finished first in their division, they also won first in the all-size school tournament at the NorthEast Washington Educational Service District 101 (NEWESD 101) Regional Tournament at Whitworth University on Friday, February 21, 2020. VCS beat over 50 area schools—from 1B schools to 4A schools.
VCS started with a solid score in the first round and followed that up with correctly answering 41 out of 60 written questions. After the lunch break, VCS faced Gar-Pal, a team that has swept our division for the past 5 years. VCS beat Gar-Pal and ended up with the highest number of points for all teams (of all-sizes) at Regionals. That placed VCS in the Tournament rounds, which pits the division winners and top point getters of all school sizes against each other.
In the first round, VCS tied LC and had to go into a tiebreaker round. That tiebreaker win put VCS in the finals, vying for 1st, 2nd, and 3rd place against Freeman and St. George's. The VCS Panthers often compete against Freeman in regular Knowledge Bowl season league meets but have never beaten them. St. George's has been a powerhouse in Knowledge Bowl with an impressive series of State Championships. But VCS was victorious over both schools this time. VCS Knowledge Bowl coach Cathy Hopson wrote: "Our VCS team thanked God for the brainpower He has given them. They managed their nutritional and fresh air intake and pulled off a steady victory for First Place in the NEWESD 101 Regional Tournament."
This is the first time in the history of this tournament that a 1B school has taken first place over all area schools and divisions. It was a historic moment. Good show, VCS Knowledge Bowl team!
The VCS win is the first time a 1B school has ever won the tournament.
VCS beat over 50 area schools of all sizes, from 1B to 4A.
VCS won First Place in the 1B school division.
VCS won First Place in the all-school Regional Tournament.
VCS scored the most total points in the whole tournament (130).